Exploring IT Market in Saudi Arabia
Topic: Thoughts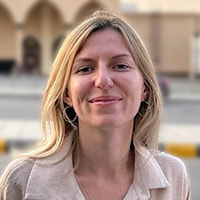 When I learned that I was going on a business trip to Saudi Arabia, I was anxious and delighted at the same time. What did I know about this country? To be honest, not much.
But thanks to a quick internet search, I learned that the country has been reshaping its world image. It has reduced its dependence on oil revenues by investing in non-oil sectors such as tourism, entertainment and technology. This has created new jobs for Saudis and reduced the country's vulnerability to oil price fluctuations. Saudi Arabia has recently launched a number of initiatives aimed at making the country one of the most technologically advanced in the world.
The purpose of my business trip was to attend "Seamless Saudi Arabia 2023", one of the country's largest events focused on e-commerce, retail, FinTech, banking, payments, digital marketing and home delivery. The term "seamless" symbolizes the smooth transition and integration of different industries and technologies that are becoming increasingly important in today's digital age.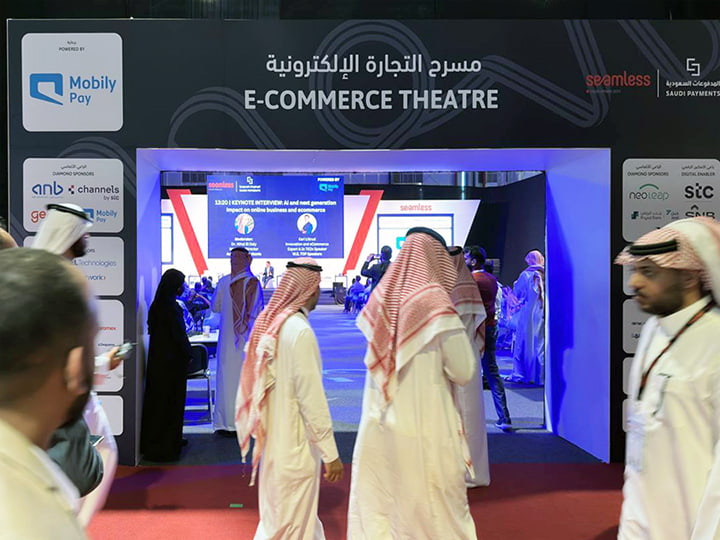 As soon as I entered the Riyadh International Convention & Exhibition Center, I was greatly impressed by the size of this two-day exhibition.
Here are some numbers that show how big this event was.
20,000+ attendees
500+ exhibitors
300+ speakers
300 startups
For me, as a business development manager in an outsourcing company, attending such exhibitions is a great way to make new contacts, which was one of the main goals of my business trip. Although it was almost impossible to visit all the exhibitors in two days, I did my best to make useful business contacts for the company I work for.
As I walked from one booth to another, I paid attention to the stages scattered throughout the place. Over 300 speakers were addressing the audience on the latest trends, market disruptors and technologies shaping the world of payments, financial technology and commerce. I wish I could split in two so that part of me could listen to the speakers and another part could meet the exhibitors. I made a decision to prioritize communication with potential customers and partners.
Communication Style
As with any other conference or exhibition, the communication was very friendly and casual among all the attendees. I walked up to the booths, asked the exhibitors what they were doing, what they were offering, what they were interested in… We asked each other questions, found out how we could be useful to each other, and explored the ground for further cooperation. Then we often reached a mutual agreement to schedule a call or meeting at a later time to discuss matters more extensively.
Such meetings usually do not involve discussing business details (e.g., a contract and its terms). It is comparable to a first date, where you need to make a good impression and get to know your partner better.
To facilitate communication between exhibition participants, the organizers set up a special online platform for them, where everyone had their own account. The platform also contained the schedule for all events, the lists of sponsors, partners, exhibitors, startups... And the most valuable thing was that all their contacts were listed there as well.
Even before the actual exhibition, it was possible to contact delegates and arrange meetings with them. In this way, all participants were able to make their two days at the exhibition more efficient and productive.
I continue to use this platform even after "Seamless Saudi Arabia 2023" has ended. I continue my business communication with the attendees I met at the exhibition, and we exchange contacts on LinkedIn for further collaboration. Unfortunately, this app does not have practical filters to filter all contacts, but it has an invaluable database of potential clients not only from Saudi Arabia, but also from neighboring countries.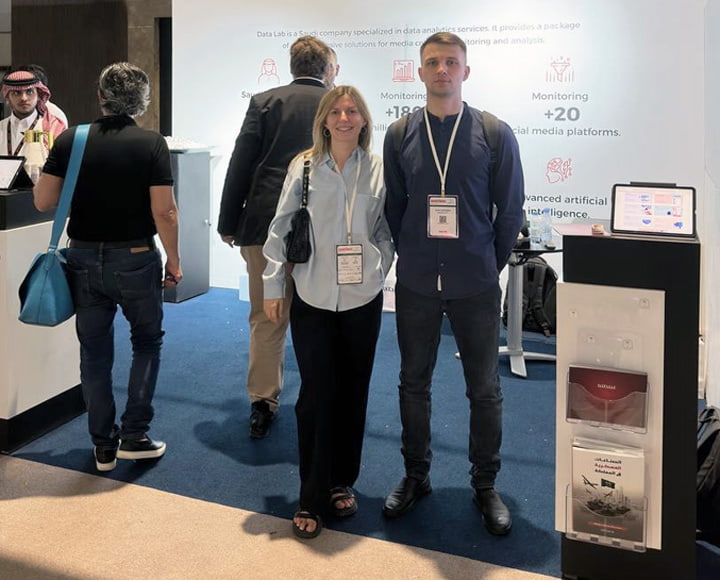 Middle Eastern Hospitality
In describing the exhibition, it is impossible not to mention the hospitality of all the participants who made the attendees feel at home. Each exhibitor wanted to be the best host and welcomed their guests with fragrant coffee, oriental sweets and chocolate.
The ritual of treating guests to coffee is especially important in Saudi Arabia and other Middle East countries. For the Bedouins, coffee was very difficult to obtain, so offering this luxurious product shows generosity. The ritual of offering coffee has passed from generation to generation, and the welcome coffee is still relevant up to date.
Being a good host is a central part of life in the Middle East and a fundamental value shared by all people in the region. The roots of this value lie in the tribal system, where treating guests well has traditionally been a means of achieving honor.
Specifics of the IT Market in Saudi Arabia
In general, the IT market in Saudi Arabia is very large, demand is high, as everyone wants to digitize their business. There are a lot of government contracts for all kinds of development. Therefore, many representatives from local IT companies attended this event. When I approached the exhibitors, the main questions I was asked were, "How is your company different from the others? How is your company better than your competitors? What is your advantage?" No one wanted to hear nice and pathetic phrases in response. The answer had to be very specific, with concrete examples and numbers.
At the exhibition, I was lucky enough to meet a person who not only possesses a strong understanding of the development process but also works as an IT consultant. Despite the fact that we didn't have much time to talk, he was happy to share with me some details of the IT market in Saudi Arabia.
1. First, he told me that the peculiarity of this market is that customers want to use their own solutions. For example, they want to create an e-commerce site. There are Shopify and other various e-commerce platforms that already offer ready-made solutions for e-commerce sites. However, this approach does not meet the customers' expectations. They want to create their own variant of Shopify. For this reason, they are interested in custom development.
When I asked my new acquaintance if they wanted to create their own social network, it turned out that although there were initial considerations, they eventually dismissed the idea due to the sheer complexity and cost.
2. The next moment he drew my attention to was speed. In today's market, speed is critical and absolutely vital. When a customer proposes a new project, he wants to see it put into action as quickly as possible. They are not interested in development phases and intermediate results, but want to see the project completed in a short time. Therefore, it is common for customers to prioritize speed over quality before release.
Some IT companies from this region abide by these rules and tell their customers what they want to hear. In practice, of course, their promises often fall short of reality. But that's another story.
3. Numbers, numbers, and again numbers. If we want to find new customers in the Saudi Arabian market, we have been advised to translate all our experience, knowledge and competence into numbers. The cost of projects and the number of subscribers are crucial for potential customers.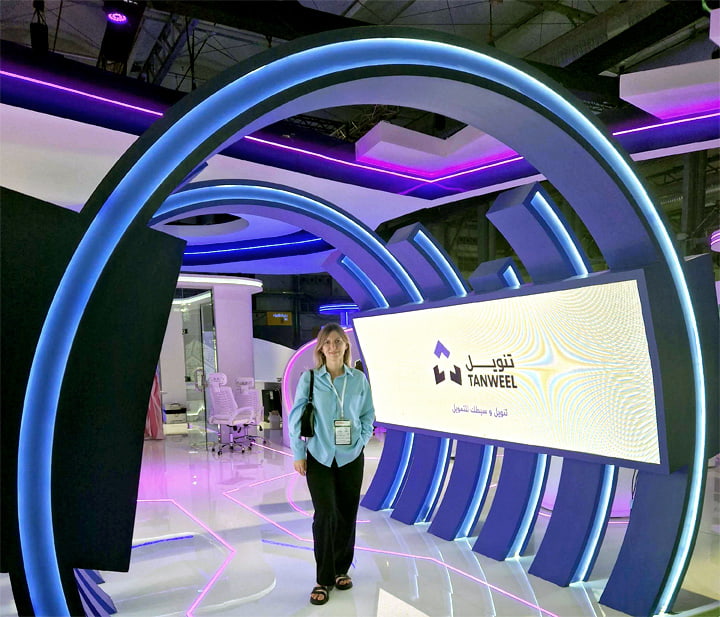 Priceless Experience
If you ask me if my expectations of the exhibition were met, my answer is, "Absolutely!" Apart from the oppressive heat due to air conditioning failure at the venue, the reality exceeded my expectations. "Seamless Saudi Arabia" is truly an important event in the world of IT, as it helps to build bridges between Arab countries and the rest of the world.
I am sure that any business development manager would love to attend such a multi-brand exhibition, where more than 500 exhibitors present cutting-edge solutions and the most innovative startups from the region are showcased. If I have the opportunity, I would love to attend "Seamless Saudi Arabia" next year because it provides valuable experience and opens new business perspectives for the company I work for.